Time for a confession… Chili is one of my desert island foods. If I was stuck on a desert island and I could eat only one food for the rest of my existence, chili is easily in my top five (tacos are number one though). Clearly I don't have an issue eating hot/spicy food when it's hot outside…
Chili is one of our staples when the weather turns chilly (pun intended, sorry) and this is the recipe we always reach for because it's hearty, comforting and has enough flavor for Laura to be excited about it. Hint: the special ingredient for her is the cinnamon!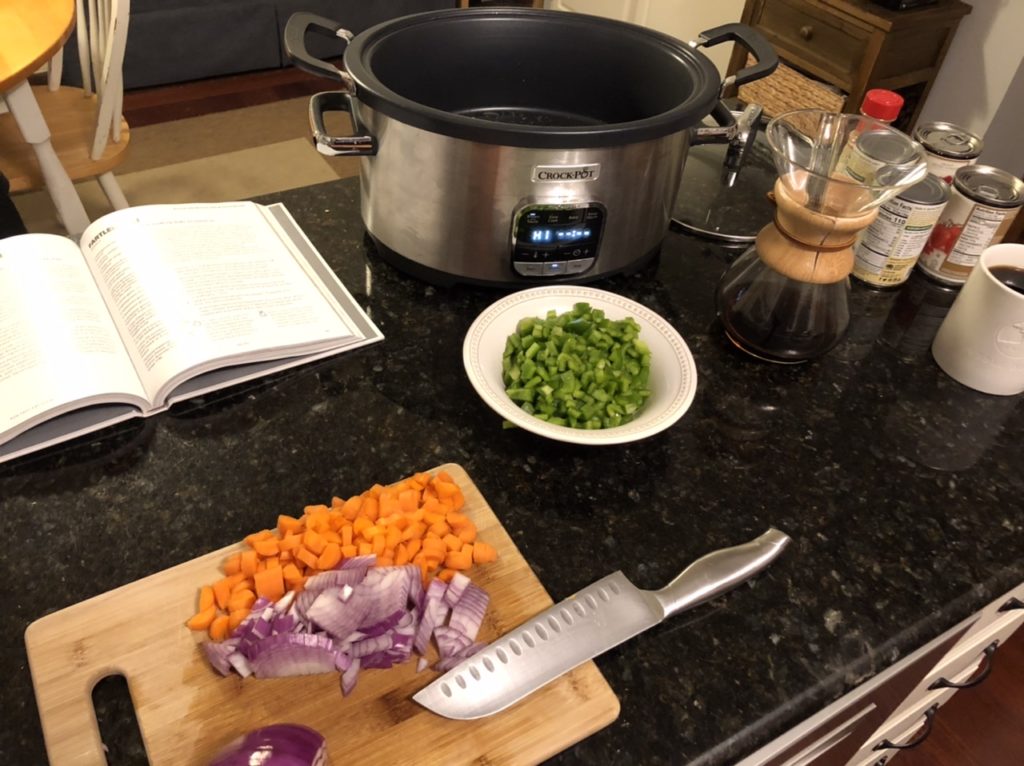 Inspired by the Fartlek Chili recipe from the Run Fast Eat Slow Cookbook. This is one of the three cookbooks we reach for on a weekly basis and cannot recommend it enough.
2 tablespoons extra-virgin olive oil
3 carrots, peeled and diced
1 large red onion, diced
1 1/2 teaspoons fine sea salt (cut in half if your broth is not low-sodium)
2 green bell peppers, seeded and chopped
.5 pound ground bison
.5 pound steak, diced
3 cloves garlic, minced
2 tablespoons chili powder
2 teaspoons ground cumin
2 teaspoons ground cinnamon
1/4 teaspoon ground red pepper (this doesn't make it that spicy, just adds flavor)
2 cups bone broth or chicken broth (low sodium if possible)
2 cans (14.5 ounces) no-salt-added diced tomatoes
2 cans (15 ounces) black beans, drained and rinsed
Heat the oil in a skillet over medium-high heat. Add the carrots, onion, and salt cooking until soft but not brown for about 5 minutes stirring occasionally.
Add the garlic, chili powder, cumin, cinnamon, red pepper, bell peppers, bison and steak. Stirring continuously breaking up the meat, cook for about 5 minutes until the meat is browned.
Add everything from the skillet to the crock pot and combine with the broth, tomatoes, and black beans.
Cook for 6 to 8 hours on low or 4 to 6 hours on high.
Taste and add more salt or red pepper depending on taste.
Serve in bowls with your fixings of choice.
Part of the reason Laura likes this recipe is because it's got a little bit of heat but it's not overwhelming since the cinnamon cuts the heat. (Her taste buds just can't handle too much spice, no matter how hard I try). This truly is a mild chili – if you're looking to make it a bit spicier, I recommend adding another 1/4 teaspoon of ground red pepper and potentially some chilies depending on the level of heat you're looking for.
Now, why do I call it healthy-ish? Because this recipe is really as healthy as you want to make it. Don't want to be healthy? Dress it up with all the cornbread, cheese, sour cream, etc that your heart desires. Want it to be healthy? Grab that Greek yogurt and an avocado and you've got a delightfully creamy, flavorful bowl of chili that will warm you from the inside on the coldest of Minnesota days.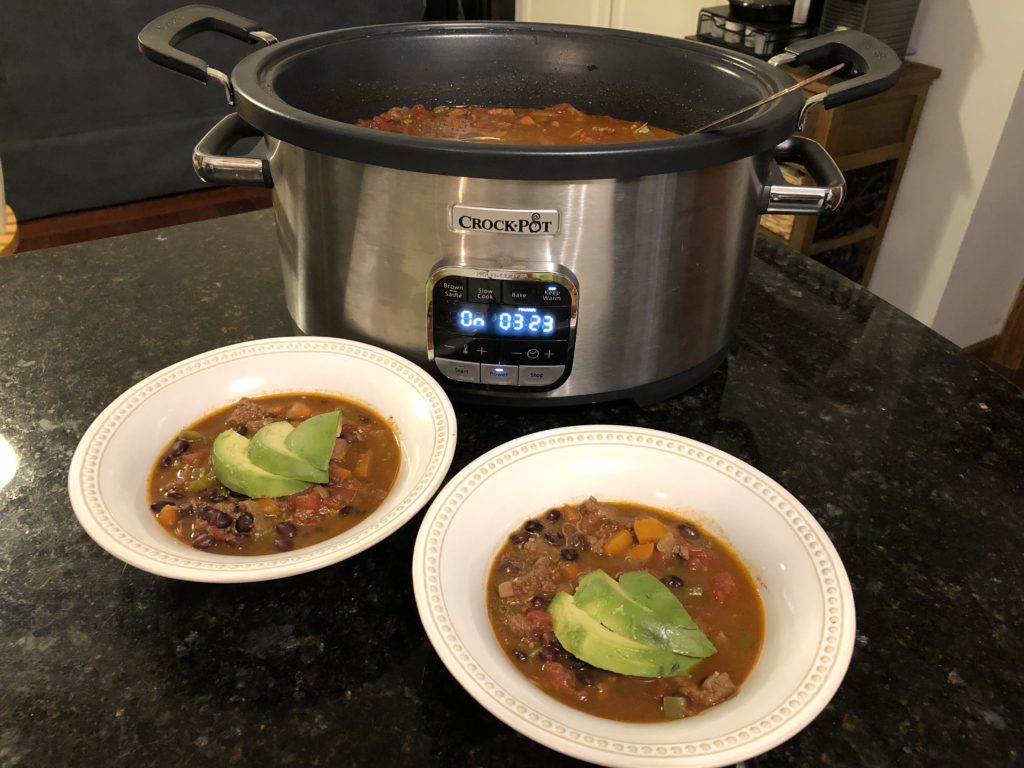 DFTBA,
Jason