Time for a confession… Chili is one of my desert island foods. If I was stuck on a desert island and I could eat only one food for the rest of my existence, chili is easily in my top five (tacos are number one though). Clearly I don't have an issue eating hot/spicy food when it's hot outside…
Chili is one of our staples when the weather turns chilly (pun intended, sorry) and this is the recipe we always reach for because it's hearty, comforting and has enough flavor for Laura to be excited about it. Hint: the special ingredient for her is the cinnamon!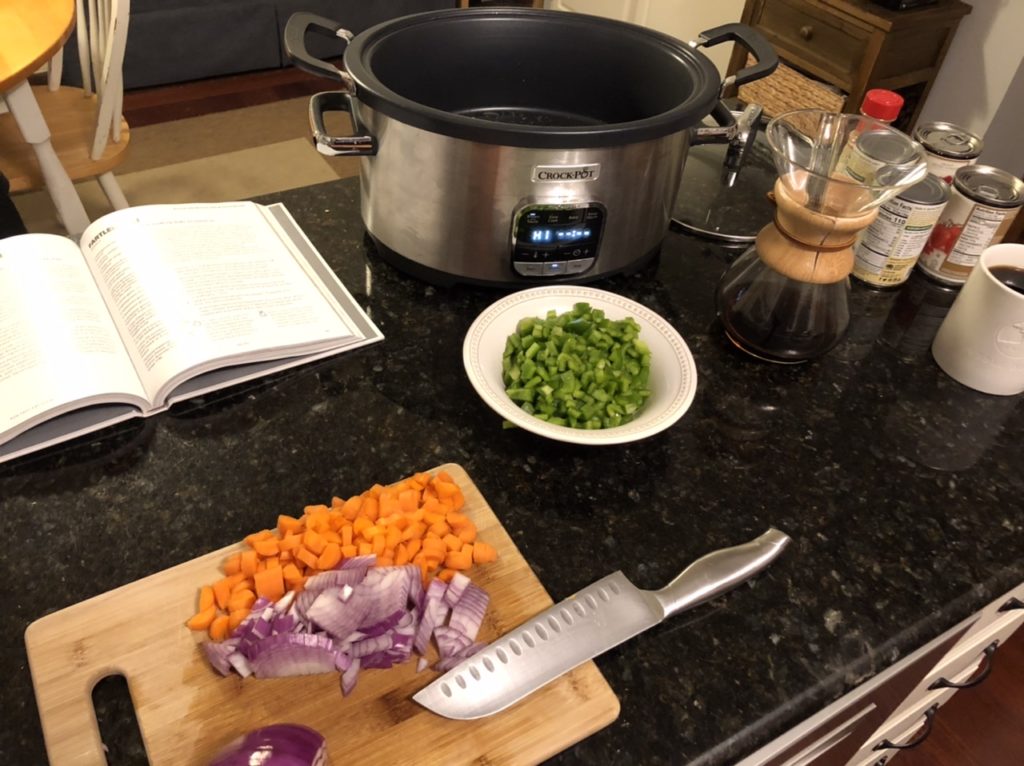 Inspired by the Fartlek Chili recipe from the Run Fast Eat Slow Cookbook. This is one of the three cookbooks we reach for on a weekly basis and cannot recommend it enough.
2 tablespoons extra-virgin olive oil
3 carrots, peeled and diced
1 large red onion, diced
1 1/2 teaspoons fine sea salt (cut in half if your broth is not low-sodium)
2 green bell peppers, seeded and chopped
.5 pound ground bison
.5 pound steak, diced
3 cloves garlic, minced
2 tablespoons chili powder
2 teaspoons ground cumin
2 teaspoons ground cinnamon
1/4 teaspoon ground red pepper (this doesn't make it that spicy, just adds flavor)
2 cups bone broth or chicken broth (low sodium if possible)
2 cans (14.5 ounces) no-salt-added diced tomatoes
2 cans (15 ounces) black beans, drained and rinsed
Heat the oil in a skillet over medium-high heat. Add the carrots, onion, and salt cooking until soft but not brown for about 5 minutes stirring occasionally.
Add the garlic, chili powder, cumin, cinnamon, red pepper, bell peppers, bison and steak. Stirring continuously breaking up the meat, cook for about 5 minutes until the meat is browned.
Add everything from the skillet to the crock pot and combine with the broth, tomatoes, and black beans.
Cook for 6 to 8 hours on low or 4 to 6 hours on high.
Taste and add more salt or red pepper depending on taste.
Serve in bowls with your fixings of choice.
Part of the reason Laura likes this recipe is because it's got a little bit of heat but it's not overwhelming since the cinnamon cuts the heat. (Her taste buds just can't handle too much spice, no matter how hard I try). This truly is a mild chili – if you're looking to make it a bit spicier, I recommend adding another 1/4 teaspoon of ground red pepper and potentially some chilies depending on the level of heat you're looking for.
Now, why do I call it healthy-ish? Because this recipe is really as healthy as you want to make it. Don't want to be healthy? Dress it up with all the cornbread, cheese, sour cream, etc that your heart desires. Want it to be healthy? Grab that Greek yogurt and an avocado and you've got a delightfully creamy, flavorful bowl of chili that will warm you from the inside on the coldest of Minnesota days.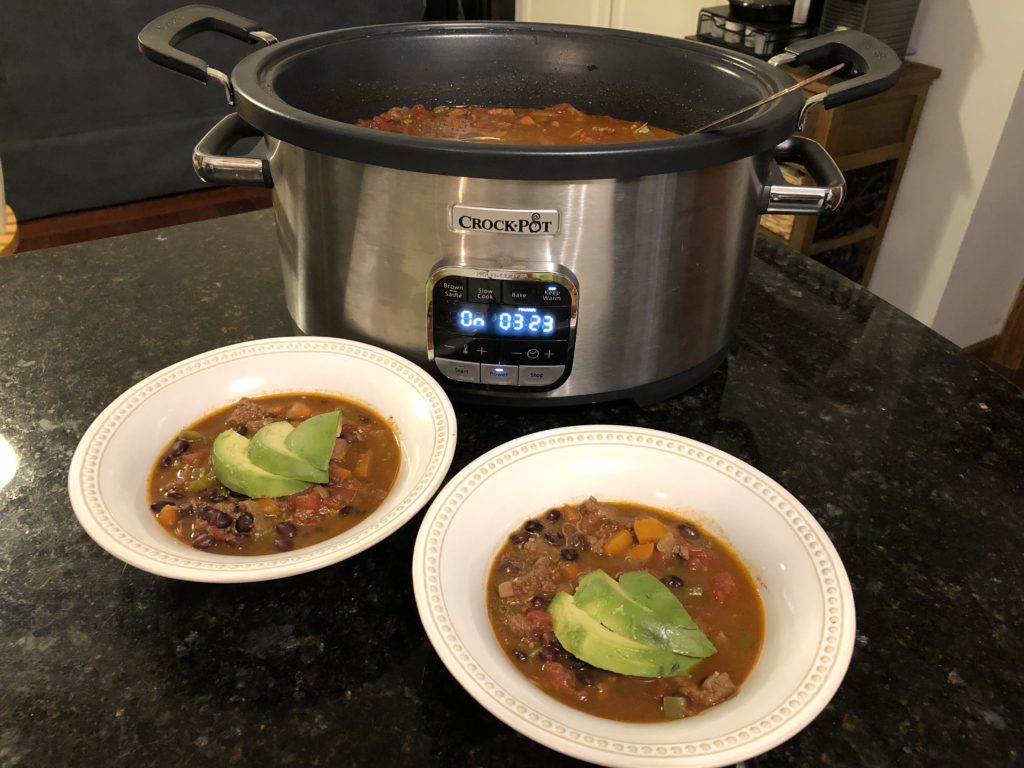 DFTBA,
Jason
This past Sunday Jason and I joined over 10,000 people to run one of my favorite races; the Twin Cities 10 Mile, a.k.a. The Shortcut to the Capital. The 10 mile takes place the same day as the Twin Cities Marathon and uses part of the same course as the marathon…just 16 miles shorter!
The 10 mile is such a popular race that you have to enter a lottery, then hope your name is dawn to get a bib. We've been lucky enough to have run the 10 mile 3 times before. But even with the lottery, I would recommend this race hands down! Here's why:
The Course! It's challenging (check that elevation gain) but beautiful. You get to see downtown Minneapolis, the Mississippi River, stately historic homes on tree lined streets, downtown St. Paul, the Cathedral of St. Paul and the capitol building.
The specators. I swear the town shuts down during marathon weekend. Even at 7am when the 10 mile starts, there are people out in their front yards cheering for the runners.
The finish line views. You come to the top of a hill, the Cathedral on your left, the capitol building in front of you, a giant American flag hanging over the road between two fire trucks, people lining both sides of the course cheering you on (plus it's downhill, I love a good downhill). Every time I run this course I start choking up at the top of this hill.
It's so organized! Twin Cities in Motion does a wonderful job putting on the 10 mile and the Marathon. The food after the run and the swag are usually pretty awesome too.
I will admit, I was woefully under trained this time around. We had only run a 6 mile long run about a month before the race. I've been fitting in short runs maybe 1-2 times a week, and working out at Alchemy (more on that later but if you're curious now – https://alchemy365.com/) 2-3 times a week, so I did not have much of a base.
Let me be real about why though; it has been really hard for me to want to run this past year. I was just coming off a long training block chasing a 5k PR when we found out we were pregnant for the first time. We actually found out we were pregnant the day after the 10 mile last year, so this year's race was a little bittersweet for me. I knew I wanted to stay active during my pregnancy, so after some guidance from my doctor I cut back on my mileage and pace, did more yoga and focused on strength training. But after our first miscarriage I lost all my motivation, stopped caring and really started to experience the first signs of anxiety and depression. I knew working out again would help me feel better but it was just easier to stay in bed for longer, or crash on the couch at the end of the day. I signed up for the 10 mile lottery when it opened, but thought there was no way I'd get in 3 years in a row. When I did get the news that I had a bib for the race, I kinda looked forward to having some structure and schedule again. But it took a lot of energy to get me out the door on a run. I think I did not want to give my mind the time or free space to think. To remember what we had lost, or worry about something happening to me on a run. I hated running alone. If I couldn't go with someone or take one of our dogs, I'd skip it, out of fear something would happen to me and no one would be able to help. On warm sunny days over the summer, I tried a few runs on my own, but stayed on busy streets, or would only go when Jason was home. I'm still struggling with the motivation to get out the door these days, especially now that it's dark in the morning and getting darker earlier in the evenings. But, if you haven't experienced it yet, the running community is a welcoming, supportive one and if it were not for the encouragement of my running friends and Jason, I don't know how I would have gotten to the start line on Sunday.
My friend Andrea and I before the 10 Mile Start

Jason and I at the 10 Mile Start
So I'm sure you're wondering…how'd the race go? Mentally I was so worried about the last 4 miles. From the time the gun went off all I could think about was possibly crashing at mile 6 and having to drop out. Somehow Jason picked up on this and was great at pointing out all the funny signs, or really dressed up and passionate spectators, like the older gentleman wearing a kilt around mile 4 who was dancing the best old man dance ever! As long as we were talking back and forth, it helped keep my mind off of the anxiety I had about finishing. Also, if you ever run the 10 mile or the marathon, TC Running Company puts on the best cheer zone at mile 8/24 hands down! You can hear their music for blocks in every direction.
Remember how I said the finish is one of my favorites? All those people, the cathedral, the volunteers, the giant American flag and the sight of the finish line? Yeah, I started crying again this year, but not because I was overwhelmed by the crowd and finally getting to the finish. This year was different. As I got to the top of the hill, the bells of the cathedral started ringing. I don't know why (it wasn't the top of an hour) but as soon as I heard the bells the tears started. I immediately thought of the two babies we had lost, but not in mourning. Rather like they were behind ringing the bells as a welcome back to running and in celebration of me finishing this race.
I somehow held it together and made it to the finish line. Even thought it wasn't a PR, and I had to stop and walk a few times, I'm proud of this finish. I got back out there and it feels like running and I may be getting back together again.
Not that kind of announcement…sorry to disappoint you!
April 20, 2020, I will be toeing the line in Hopkinton, MA for the start of the Boston Marathon! Why do you ask? Let me tell you a story…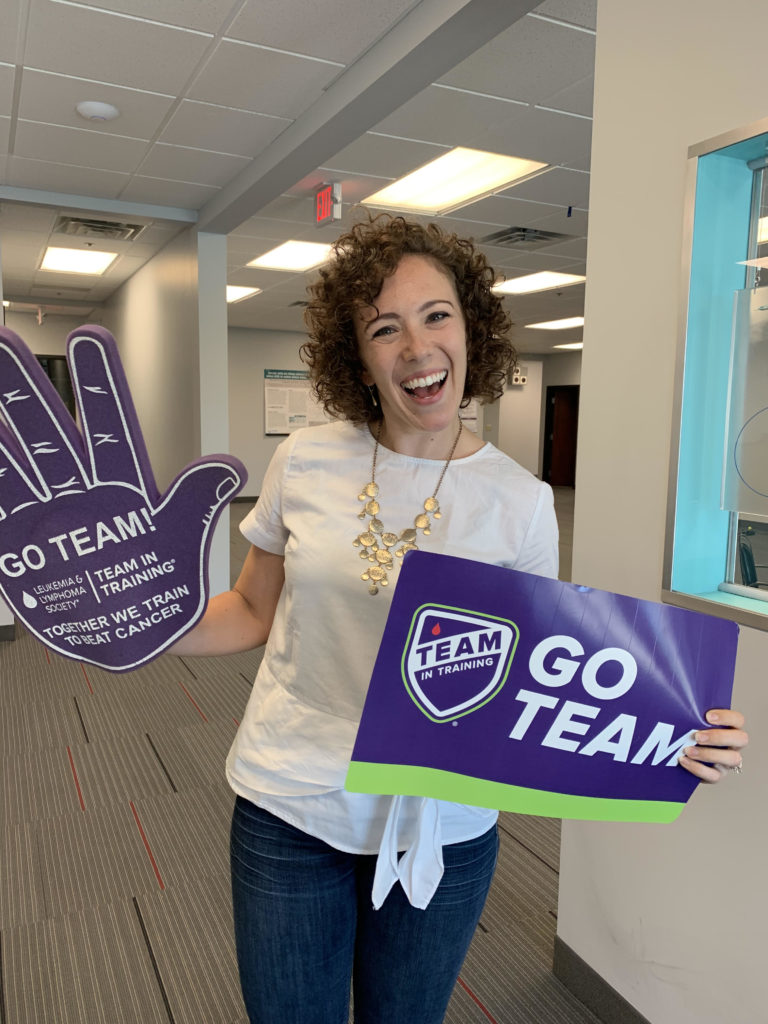 January 7, 2020 is a big day. For me, it is the 10 year anniversary of my bone marrow donation to Owen. For Owen, it is the 10 year anniversary of his bone marrow transplant to treat JMML (Juvenile myelomonocytic leukemia). 10 years, can you believe it?! If you asked me 10 years ago what I would expect to come from my donation it would have been a lot of "I hope…" and "I wish…" Never would I have imagined the relationships I gained and experiences I had. I'm sure Owen and his family had hoped they would finally get to hear the words "cancer free."
Ten years is the reason I want to celebrate! Most people might decide to have a party, or remember the day quietly with family and friends, but I want to do something bigger; I want to give back. And what would be a better way than to raise funds for The Leukemia & Lymphoma Society (LLS) with Team in Training (TNT) to help find cures and ensure access to treatments for blood cancer patients like Owen, all while training to run my dream marathon…the Boston Marathon! I want to help make sure other pediatric blood cancer patients have the hope and resources to get better, just as Owen did. And just like Owen had his family and a HUGE support system in their town, it going to take more than just me to accomplish this goal and that's why I'm asking you to help!
Donations to LLS help fund treatments that save lives every day; like immunotherapies that use a person's own immune system to kill cancer, or the LLS Children's Initiative, a collaborative approach to change how pediatric blood cancers are treated. In Minnesota alone, just over $9 million was given by the LLS to the University of MN and Mayo Clinic to help support research on all types of blood cancers and $1.7 million was given to MN blood cancer patients in 2018 to help them fight their disease. You may not know it, but every single donation helps save a life with breakthrough therapies or financial assistance. Check out my TNT LLS page here – https://pages.lls.org/tnt/mn/boston20/lmoffett
So why LLS and TNT? Let's get to the juicy stuff.
Leukemia has touched my life in many ways over the years. My first encounter with leukemia happened when I was 5 when one of my cousins was diagnosed with leukemia and we went as a family to the Baseball Hall of Fame just days before he passed away. In 2002, while in high school, my family learned my Grandma was diagnosed with non-Hodgkin's lymphoma and unfortunately passed away a year after her diagnosis. Then in 2008 I watched a very close friend, Nikki, battle leukemia. It's because of her that I have an even closer connection to leukemia. I worked with Nikki's husband, Marc, and quickly got to know them both. In 2008 Marc and Nikki were blessed with their daughter Michaela, but sadly a short 3 months later Nikki was diagnosed with leukemia. She went through chemo and radiation but ultimately still needed a bone marrow transplant. Unfortunately, no one in her family was a match and she would need to find an unrelated donor. It was hard for me to watch such a wonderful person go through something so terrible. But that's when I first learned about Be the Match. In March 2009, I signed up on the registry in honor of Nikki. Fortunately, Nikki was able to find an unrelated donor, began to recover and was soon doing well enough to be sent home. Sadly, she lost her battle with leukemia later in 2009 – she was only 30 and their daughter Michaela was only 9 months old.
I do not remember anyone telling me the odds of being called as a bone marrow donor, but I did know it could be years if I was ever called at all. I was surprised when I got a call from Be the Match 3 months later saying I was a potential match for a 3 year old boy with leukemia; and the person on the other end of the phone asked THE important question, was I willing to be his bone marrow donor? I didn't have to think twice, I replied with a resounding yes. There was no doubt in my mind, I had a feeling that I was meant to help this little boy.
Everything moved quickly after that phone call. I had an initial appointment that evening to learn more about the donation process, the type of leukemia he was fighting and to sign some forms. Marc was kind enough to come with me to my appointment and give his support. My heart dropped when I was told that this little boy only had a 50% chance of surviving WITH a bone marrow transplant. For the boy I matched, his doctors requested actual bone marrow, so I was scheduled for surgery. Truth be told, I was scared, this was going to be my first surgery EVER. I just kept reminding myself of why I was doing this and how the little boy must be feeling, and it helped me get through it. I will never forget my dad telling me that my donation was "the best Christmas present I would ever give."
January 7, 2010 was the day of my surgery, 9 months after I signed up to be a donor, and 3 months after Nikki passed away. My mom flew in to be with me and stick around to make sure I was ok. The entire procedure took an hour and they harvested about a soda can full of bone marrow. I stayed in the hospital for the day, long enough to watch a few movies and enjoy some delicious hospital food and was discharged that evening.
Once I was home, I started thinking about the little boy wondering how he was doing. Rules dictated that I had to wait a WHOLE year before I could find out who he was. I got some updates here and there about how he was doing, but all anonymous. I prayed for him every day, a gut feeling told me he was doing well, recovering, and playing outside. For me, my life continued just as it did before my donation.
When January 7, 2011 came around, I was hoping I would hear something about that little boy and my wish was granted that evening; I received an email from his parents! His name was Owen and because of me he was now 4 and doing well! His family was coming to Minneapolis for a checkup and wanted to meet. I was touched and overjoyed! His parents sent me a link to a blog they were keeping, and I stayed up very late reading all about Owen's journey. I learned how he had been diagnosed, the trips to different hospitals around the country to find the right place for his treatment, his short fight with graft vs. host disease, and all of his family and friends that were supporting him in his hometown of Omaha.
We met a week later in downtown Minneapolis. Mark and Heather, Owen's parents, greeted me with big hugs and tears. Owen stopped by with a big grin, just long enough to say hi, since he was busy playing with his sister and brother. Surprisingly, I learned Owen and I had a lot in common. My donation and his transplant were on the same day, in the same hospital, just 1 floor apart. Along with sharing marrow we also share the same birthday.
I have been lucky to get to know Owen and his entire family. They are a kind and welcoming family, always taking the time to have fun. We keep in touch regularly; Owen's parents were readers in our wedding and their whole family flew out to be with Jason and I on our special day. I am happy to say, Owen is 13, an amazing soccer player, loves the Minnesota Vikings, and best of all, Owen has no signs of cancer! What started off as my way of honoring a friend, turned into becoming part of another family and a lifelong friendship.
Owen and his family are my why for taking on another marathon and working to raise funds and awareness for LLS with TNT. I'd like to ask you to please make a donation in support of my efforts with Team In Training and help get us all closer to a world without blood cancers. I promise to keep you updated on my training journey, even through the middle of a Minne-snow-ta winter, and I cannot wait to celebrate this 10 year anniversary with all of you when I cross the finish line in April 2020.
With love,
Laura
P.S. To check out my TNT page visit- https://pages.lls.org/tnt/mn/boston20/lmoffett
To donate please visit- https://donate.lls.org/tnt/donate?programGroupName=TNT&fundraiserPageID=3763466&participantFirstName=Laura&participantLastName=Moffett&displayName=Laura%20Moffett&fundraiserPageURL=https%3A%2F%2Fpages.lls.org%2Ftnt%2Fmn%2Fboston20%2Flmoffett