We went camping a couple of weekends ago at Mille Lacs State Park to check camping off my list of "Things to Do in Summer 2013." It wasn't my first time camping, but my first time really using my new backpack. We had a 3/4 mile hike out to our campsite on a small lake, beautiful, quiet and not too far for my first time backpacking. I loved it! Packing everything in the pack was a struggle for me trying to fit everything, (note to self, I need a better sleeping bag! One that is meant for backpacking.) but we planned ahead with clothes and meals so we had the right amount of food and all our supplies fit just perfectly. Maggie came along too and got to experience her first weekend camping. Being a beagle, she LOVED all the new smells and that we went on lots of long "walks."
I insisted that we bring stuff to make s'mores, even though we were trying to save room in our packs. I love roasting marshmallows over the campfire, trying to get them perfectly toasted. I end up burning the marshmallow most of the time though. Plus, s'mores have chocolate so they're an automatic delicious treat in my book!
Since we don't have a fire pit to roast s'mores at home, Jason found a recipe to satisfy my s'mores craving…no bake s'mores! Making these were so easy and quick; it took about 30 minutes total, including the time the s'mores spent in the freezer. Here's what you'll need:
Graham crackers
Marshmallow fluff/creme
Chocolate to melt
Sprinkles or chopped nuts to add as a topping (optional)
1. Take the graham crackers and break them into quarters.
2. Using a knife or spatula, spread about a tablespoon of the marshmallow fluff/creme onto one graham cracker. Set aside on a cookie sheet lined with wax paper.
3. Top with another graham cracker quarter. The fluff was a little runny, so we put them in the freezer for about 10 minutes.
4. Melt your chocolate. We used about 3/4 of a bag of Toll House's milk chocolate chocolate chips. They melted fairly quickly, and were ready when we pulled the graham crackers out of the freezer, but you could use whatever chocolate you prefer. We used our "double boiler" set up, a metal mixing bowl over a pot of boiling water.
5. Dip half to 3/4 of the graham crackers in the melted chocolate. Leave some plain graham cracker so it's easier for people to pick them up and eat!  The bowl was deep enough that it worked out easily for us to just dip the s'more and put it right back on the cookie sheet. The trick to this step is to dip as quickly as possible. The heat from the chocolate will start to soften the marshmallow fluff, and we didn't want it dripping into the chocolate.
6. Sprinkle your desired topping onto the chocolate. (Totally optional!) We were hosting a game night and wanted to be festive. Do this while the chocolate is still soft so the topping sticks.
7. Put the cookie sheet back into the freezer for about 10 minutes. This will help the chocolate harden and the marshmallow re-harden if it started to melt.
8. Enjoy! Everyone at game night LOVED them and by the end of the evening they were all gone. If you do have any leftovers, I would suggest storing them in the fridge, the marshmallow fluff started to run again as they sat out during the evening.
I might have to make some more of these soon to re-live our camping weekend!
Now I know it's after Labor Day, but I'm still trying to hold on to summer by grilling until I can't stand being outside in the cold! (Then Jason graciously volunteers to go outside and man the grill.) This is one of my absolute favorite chicken kabob recipes. The marinade is so easy to prepare, flavorful, and the best part is, I've never had the chicken turn out dry! Plus, who doesn't like ranch dressing? I'll marinade a couple of chicken breasts, skewer up some peppers, mushrooms and onions to throw on the grill and dinner is ready in about 30 minutes (well more than that if you count marinading the chicken.) A quick meal is key at our house right now, Jason's been busy with work and I'm still in the middle of training for my half-marathon (only 5 more weeks to go! I love running, but it will be nice when I don't have to spend hours each day training) and the last thing either of us want to do is cook an elaborate meal that takes hours.
Ingredients
1/4 c olive oil
1/4 c light ranch dressing
1 1/2 T Worcestershire sauce
1 T dried rosemary
1 t lemon juice
1 t white vinegar
salt/pepper to taste (although I've never used them)
2 chicken breasts
1. Mix the marinade together
In a medium size bowl, stir together the olive oil, ranch dressing, Worcestershire sauce, rosemary, lemon juice, white vinegar and salt/pepper if you like. Because the olive oil and ranch don't want to play nice together, it will take some stirring to get everything to come together.
2. Chop the chicken into pieces and add to the marinade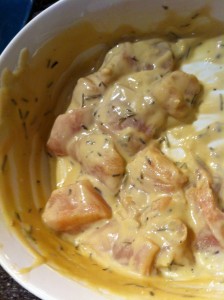 3. Cover and refrigerate at least 30 minutes
I love to prep the marinade and chicken the night before and let it sit over night. I think it helps make the chicken more flavorful!
4. Preheat your grill to medium to medium-high heat.
While you're waiting for your grill to heat up, thread the chicken onto skewers and discard the marinade. No reusing marinade that has touched raw meat!

5. Time to grill!
Grill the skewers for about 8-12 minutes, until the chicken is no longer pink in the middle and the juices run clear (the usual disclaimer for cooking chicken)
We usually put the skewers of veggies on the grill at the same time as the chicken so they have enough time to cook.And while we're waiting for the food on the grill, we'll cook up some rice. The debate is usually what type of rice, white or brown, and it seems since Jason's been cooking the rice recently we're always eating white… hmm, I think we'll have to change that.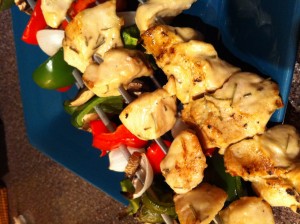 Important Healthy Facts
(just the chicken and marinade, all veggies and side dishes are up to you!)
Serves: 4
Prep Time: 40+ minutes (10 minutes to prep the marinade and chicken, at least 30 minutes to marinade)
Cook Time: 8-12 minutes
Calories per serving: appx. 228 (that is if all the marinade was on the chicken while you cooked it)
I'll never forget the first time I tried coffee. I was probably in middle school, helping my mom at a volunteer event early in the morning. All the adults were drinking coffee and it smelled so good I asked my mom if I could try some. She laughed, told me I probably wouldn't like it but helped me make a cup with plenty of milk and sugar anyway. She was right (as she usually is), I hated it. But, she said I'd probably learn to like it over time, eventually would be able to stop adding milk and sugar to cut down on the bitter taste, and she guessed I would be having some before work everyday.
Now, I wouldn't say I'm addicted to coffee, but I do really enjoy it, and I don't think there have been many days since entering the working world where I've gone without. We usually brew our own at home in the mornings, and over time I've slowly been upgrading the coffee makers. I started with a little 4 cup coffee maker, bought a grind and brew so I could have freshly ground beans, was given a Keurig (thanks Mom and Dad!), then Mom introduced me to the French Press and donated her espresso machine to the growing collection!
There are quite a few ways you could make coffee around the house depending on your mood! Now I keep seeing advertisements for cold brew coffee, and tried it for the first time when I was on vacation with my mom in Arizona. It was delicious! So smooth, not bitter and I could actually taste some of the flavors of the coffee.
Basically to make cold brew coffee you let your grounds soak in water for a long period of time, at least 12 hours, at room temperature. Then you filter out the grounds and are left with a coffee concentrate that you dilute, usually with water or milk. From what we've read, using hot water to brew coffee draws out oils and the bitter flavors from the coffee beans. But, using the room temperature or cold water produces a different reaction with the coffee beans, so no oil or bitter flavors. We decided the process sounded easy enough to try making it at home. Now you can buy special equipment to do this (like the Toddy for example), but we thought they were a little expensive when we could make our own set up at home.
Materials:
Coffee beans
Coffee grinder
Jug for "brewing"
Sieve
Coffee Filters
Bowl to collect the filtered coffee
Container to store the coffee
1. Grind the beans
I found a recipe from the NY Times to help make sure we got it right, and they suggest a coarse grind. You'll need 1/3 c coarse ground beans for every 1 1/2 c of water. We used some beans from our new favorite coffee shop, Beans and Leaves in Long Grove, IL. If you're in the area, you need to stop. It's a small little shop but they have some amazing flavored whole bean coffee at really reasonable prices. We're planning on calling an order in and having them ship us some of our favorite blends.
2. Combine beans and water
1/3c of ground beans for every 1 1/2 c of water. Stir so everything is mixed in well. Any dry patches of grounds are wasted coffee, so make sure you mix it well. We like to make big batches (six cups at a time) so we can drink it all week.
3. Cover the container and let it sit
We let it sit covered on the counter for at least 12 hours. 24 hours is the recommended amount but you can get away with 12 in a pinch.
4. Strain the coffee
We put a coffee filter in a sieve over a large metal bowl to help collect the coffee more easily. Then we transfer it to a smaller container for storage in the fridge. It seemed easier than putting the sieve over a funnel into our smaller container. Someone would have had to stand there holding the sieve waiting for the coffee to strain. With the metal bowl we can simply pour the coffee into the sieve and walk away. This step can take some time as you wait for the coffee to filter through the grounds.
5. Enjoy!
Since the cold brew process makes stronger coffee, or coffee concentrate, use a 1:1 ratio to mix your cold press with water or milk. When it was really hot last week, we were using milk and pouring the coffee over ice, it made a delicious iced coffee! Not diluted down at all like it was when we just poured hot coffee over ice. Now that it's a little cooler in the morning, I've been mixing mine with hot water and it still tastes great. I love being able to taste all the flavors, especially the little amaretto taste of this batch!
We'll have to go out and buy some flavored syrups now. I'd love to try adding some caramel on those days I'm craving something sweet! Has anyone else given cold brew a try yet?