Now I know it's after Labor Day, but I'm still trying to hold on to summer by grilling until I can't stand being outside in the cold! (Then Jason graciously volunteers to go outside and man the grill.) This is one of my absolute favorite chicken kabob recipes. The marinade is so easy to prepare, flavorful, and the best part is, I've never had the chicken turn out dry! Plus, who doesn't like ranch dressing? I'll marinade a couple of chicken breasts, skewer up some peppers, mushrooms and onions to throw on the grill and dinner is ready in about 30 minutes (well more than that if you count marinading the chicken.) A quick meal is key at our house right now, Jason's been busy with work and I'm still in the middle of training for my half-marathon (only 5 more weeks to go! I love running, but it will be nice when I don't have to spend hours each day training) and the last thing either of us want to do is cook an elaborate meal that takes hours.
Ingredients
1/4 c olive oil
1/4 c light ranch dressing
1 1/2 T Worcestershire sauce
1 T dried rosemary
1 t lemon juice
1 t white vinegar
salt/pepper to taste (although I've never used them)
2 chicken breasts
1. Mix the marinade together
In a medium size bowl, stir together the olive oil, ranch dressing, Worcestershire sauce, rosemary, lemon juice, white vinegar and salt/pepper if you like. Because the olive oil and ranch don't want to play nice together, it will take some stirring to get everything to come together.
2. Chop the chicken into pieces and add to the marinade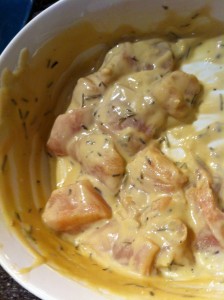 3. Cover and refrigerate at least 30 minutes
I love to prep the marinade and chicken the night before and let it sit over night. I think it helps make the chicken more flavorful!
4. Preheat your grill to medium to medium-high heat.
While you're waiting for your grill to heat up, thread the chicken onto skewers and discard the marinade. No reusing marinade that has touched raw meat!

5. Time to grill!
Grill the skewers for about 8-12 minutes, until the chicken is no longer pink in the middle and the juices run clear (the usual disclaimer for cooking chicken)
We usually put the skewers of veggies on the grill at the same time as the chicken so they have enough time to cook.And while we're waiting for the food on the grill, we'll cook up some rice. The debate is usually what type of rice, white or brown, and it seems since Jason's been cooking the rice recently we're always eating white… hmm, I think we'll have to change that.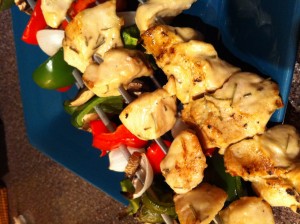 Important Healthy Facts
(just the chicken and marinade, all veggies and side dishes are up to you!)
Serves: 4
Prep Time: 40+ minutes (10 minutes to prep the marinade and chicken, at least 30 minutes to marinade)
Cook Time: 8-12 minutes
Calories per serving: appx. 228 (that is if all the marinade was on the chicken while you cooked it)