The 2013 Milk Run at the Minnesota State Fair
This past May, Laura and I set a challenge for ourselves, one 5k a month for 12 months to help keep us in "running shape." This weekend was run #4, the Milk Run. The Milk Run is a 5k that is put on at the Minnesota State Fairgrounds during the Fair. We had the privilege of joining 18 other people as part of Team Dairy, a group of runners who work to promote dairy to help fuel active lifestyles. They hooked us up with team shirts and the entry into the race! It was going to be an extremely hot and humid day, so Laura and I tried to hydrate as much as we could in preparation for the race. It didn't really help that we were at a wedding reception until late the night before the run.
We got to the fairgrounds around 6:45am after only a few hours of sleep, and it was already 84 degrees and super humid. Luckily there was a pretty steady breeze that helped a little bit. At 7am we met our team for a couple of team pictures and to get ready for the race to start.
At 7:45, standing amid a large group of excited and anxious runners, we heard the gun sound and we were off.
Now, my pace is about a minute per mile slower than Laura's, but we decided to stay together for this run and actually forgo the norm of wearing our headphones. Plus, since Laura is in full on training mode for her half marathon in October, she wanted to take it easy. However, while running the race, I apparently started to get a little overzealous, sped up and tried to go for a Personal Record(PR). Sorry honey!
Here is what the course looked like:

The tough part about this course was that the first 2 miles or so was predominantly uphill. However, that means the last mile was almost all downhill and you could coast to the finish line. Some very nice homeowners had also aimed their sprinklers over the road to help keep all of us runners cool. As we neared the finish line, Laura challenged me to sprint it out to the end. I was doing fine until then, but I'm still glad I did it. All in all, it was a really fun run that we would enjoy doing again. The atmosphere was very relaxed, care-free, and fun! Funny thing is, we also both won door prizes which we totally didn't expect!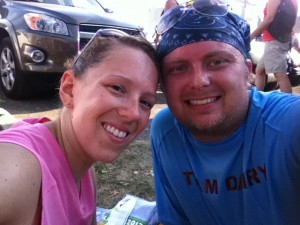 After the run, we hopped into the fair for a few hours to eat the calories we just worked off. It wasn't long before the massive crowds and the temps chased us back home to rest. Here are a few of the foods we tried:
If you're interested in more information about the Milk Run, please click here.